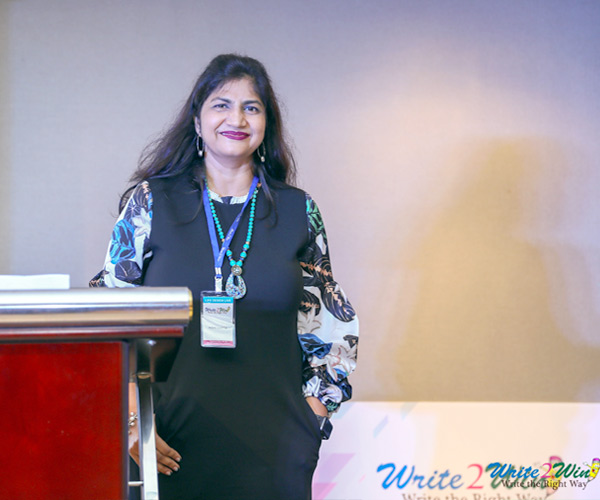 Ms. Nidhi Gupta, a perfect analyst is the word which defines her. She is a Handwriting expert, a certified Graphotherapist and only Authorized Mentor from Handwriting University International, USA, carrying out Handwriting Analysis, and Kids Handwriting Improvement program in Singapore since 2012. She is the proud owner of Write2Win, Singapore. A company with a mission to positively affect an individual's life.
Ms. Nidhi is kind, knowledgeable, humble, fun loving and has a passion to teach kids. As part of Kids Handwriting program, she analyses the handwriting of kids and discusses the issues/areas of improvement with their parents. She also provides feedback on specific areas of improvement to kids and their parents. When it comes to writing she is strict and pays special attention to each and every kid to ensure that the kids are learning the new science correctly.
As a mother of two, Nidhi knows that handwriting plays a vital role for everyone and that's why she is very sensitive and particular when it comes to working on kid's handwriting. Her passion is to spread awareness among parents to focus on improving kid's handwriting aesthetically and graphologically.
She is closely working with companies to help them to hire the right candidates for right Job. She is also training homemakers to build up their career in the field of Graphology.
She has an inspiring story for millions of housewives, who think after marriage their professional career comes to the end. She came to Singapore in the year 2005 with her husband and now has two daughters age 11 and 6. Prior to shifting to Singapore, she was working at LIC Housing Finance, in India, a job that she had got after passing a competitive exam and was the only woman from her state to clear it. After moving to Singapore, she was just a normal housewife, so she tried online Forex trading which she could pursue from home. However, after expensive Forex trading classes, she incurred huge losses which made her lose her confidence in her abilities. During her visit to India in 2011, her Sister-in-law, Ms. Shweta Gupta (graphologist) did her Handwriting Analysis and that was the turning point in her life. She joined RMC Family, with the assurance and guidance of Mr. Pradeep Kirpalani (Founder, RMC, Pune) and Ms. Riya Kirpalani she joined the course. That time in 2011 her younger daughter was only 6 months old, she opted for an online course, took skype classes while doing her household chores and as the course progress she did some tit-bit analysis and got good feedback, soon she regained her confidence, with the constant support of her family at the same time she started working as a Mother -Tongue teacher in Local schools.
After learning this science, she could relate the right and wrong formations in the child's handwriting. She was struck with the fact that there was no one to teach these kids what was the correct formation of each and every alphabet. That very moment she got her vision, to help the kids not only to improve their handwriting but to write in the correct manner. This is when she launched her company on October 7th, 2012.
Her Dedication, Persistent and Dream to do something different has made her a Successful woman entrepreneur in the field of Graphology.
She takes pride in letting you know that in just a short span of 10 years she has already trained over hundreds of students in Singapore from both local and International schools such as Canadian International School (CIS), National Public School (NPS), Global Indian International School (GIIS), Delhi Public School (DPS), Horizon Primary, Paya Lebar Methodist, Compassvale Primary etc. to name a few. She is a renowned teacher in her field of expertise and many teachers and parents recommend her to the parents who are seeking guidance for their kids. She is unique in the business as she is the only one in Singapore who is working on Kids Handwriting Improvement through use of the science of Graphology.
She strongly believes that "Children are great imitators. So give them something great to imitate".